IDRAC MBA New Business Models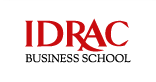 Our Academic Excellence Combined with Practical Training Leads to 95% Employer Satisfaction
This one year higher education joint program between CA Institute and IDRAC Business School offers an exceptional opportunity for both Czech & international students to enroll for a top-notch recognized MBA degree right here in Brno, Czech Republic. We provide students the management tools necessary to become tomorrow's business managers in international corporations. Thanks to our world-famous language department, we provide modules that get you communicating effectively  globally. 
At CA Institute we treat each student as an individual rather than a number. Your success is key to our program.
Choose Academic Excellence and Earn a Recognized Degree
Designed especially for you to become a top future professional
This one-year program centers on three main goals:
Optimizing existing Business Models and devising new ones
Developing and reinforcing management and leadership styles in order to strengthen the participant's credibility as a recognized actor of change.
Training participants to become coaches of managers and research managers, able to act as managers of managers in order to facilitate the implementation of new Business Models.
Designing new Business Models, facilitating their emergence in today's organizations and businesses, and guaranteeing them the best chances of success by defining management models adapted to our time, to the current economic system and to the economic agents and compatible to ethics as well; such is the ambition of the MBA of IDRAC:
"Businesseering: engineering new business models" intended for offering businesses and managers the opportunity to prepare their new Business Models and secure their economic future.
The IDRAC Bachelor in Business and Marketing will set you off in the right career path. We boast a successful record of gauranteed work upon graduation. The Bachelor program gives you the tools to communicate affectively on a global context. You will get real-life training for the global market.
The MBA New Business Models covers the following over two part-time semesters in Brno  for a total of 90 ECTS units:
Program Details
Languages
English, French, and an additional language of your choice
Communication Skills
Cluster 1: Personal Development as Change Actor
Competencies in Research (Manager as Researcher)
Leadership for Change
Lead & Manage in a Virtual World (Global Leadership: Business Game)
The first cluster will be centered on the acquisition of competencies aiming at refining the personal development of the participants as actors of change. Work on the development of their professional project will be carried out throughout the curriculum with access to research facilities, and emphasis on team coaching, on the experimentation of leadership and team management, in particular, via a virtual environment.
Cluster 2: Resources to Change
 Designing New IS (theory & practice)
Designing Contractual Architecture for New Business Models
Governance & Management system 1 & 2
The second cluster will focus on improving the efficiency of resources required by change. The goal will be to reinvent some traditional processes [for instance, in purchasing and logistics], to rethink the necessary evolutions of the contractual commitments between organizations, the new management styles of Human Resources, the design of new information systems suited to the new Business Models which are developing, and the changing roles of managerial leadership.
Make the best of existing business models and design new ones
Be recognized as an economic player committed to change, thanks to new styles of management and leadership
Become the manager of managers able to implement research breakthroughs in your team
Cluster 3: Business Models' Evolution
Demonstrate Good Knowledge of Existing Business Models
Develop Business Plans as Scenarios
Designing New Business Models (creativity)
Transfer New Business Models
The third cluster, focusing directly on the Business Models, will help develop in-depth analysis of Business Models, reinforce the determination to design new ones and will offer the opportunity to confront these drafts of new Business Models with the foreseeable evolution of the real economy. It will also deal with a systemic approach regarding the transfer of Business Models to receiving entities which may or may not be linked.
Cluster 4: Detect, Decode & Influence the Changes
Geopolitics
Creating Innovation Environment
Stakeholders' Dimension in Business Models Construction and Management
A New Way of Managing Teams With Influence (Ethics & Social Responsibilities)
Finally the fourth cluster will help the participants to detect, decipher and influence changes. By focusing on the recognition of the rapid evolution of the diverse environments [social, political, technological, economic and global factors], these courses will deal at once with the changing behavior of the economic actors due to the fast-increasing use of the Internet, the main geopolitical strategies, the innovation strategies and the performance improvement, as well as the various strategies for dealing with stakeholders. It will also examine the necessary ethical dimension of economic activities in a changing world, in terms of managerial behavior, social and environmental responsibilities and the role of lobbies.
Course Duration:
Part time
122 ECTS
400 hours of in class teaching
Prerequisites:
Bachelor degree
3 years of professional experience
Euroexam B2 
Tuition Includes:
Assistance with finding permanent accommodation during the course
Complete access to CA Institute facilities
Visa assistance (CA Institute cannot provide student visas, but can assist with the process)
Tuition DOES NOT Include:
Course materials
Accommodation and meals
Personal expenses
Travel to and from the course
Airport pickup
Medical Insurance (CA Institute can recommend medical insurance)
Work permits, permanent residency and long term visas
Full Tuition
Full fees including certificates and transfers
142,942 CZK